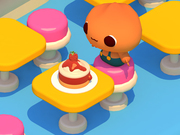 Merge Cafe Game Online - Play Free Fun Food Browser Games
Buy tasty cakes, merge them to unlock new recipes and serve them to cute falling customers. Start as a tea house and expand your range of fresh bakes. Filled with over 18 delectable bakery treats, from luxurious cookies to indulgent triple chocolate cakes. Have fun!
10,956 play times
How to Play Merge Cafe Game
Merge the same recipes and drag them to the customers.
Fun Cafe Facts for Kids
According to WikiPedia there are many fun cafe facts for kids. You will find cafes all over the world. A Cafe is an establishment which primarily serves hot coffee, related coffee beverages, and many also serve some type of food, such as light snacks, muffins, or pastries. From a cultural standpoint, coffeehouses largely serve as centers of social interaction: the cafe provides patrons with a place to congregate, talk, read, write, entertain one another, or pass the time, whether individually or in small groups. Since the development of Wi-Fi, coffeehouses with this capability have also become places for patrons to access the Internet on their laptops and tablet computers. A cafe can serve as an informal club for its regular members. In the 17th century, coffee appeared for the first time in Europe outside the Ottoman Empire, and coffeehouses were established and quickly became popular. More generally, cafes became meeting places where business could be carried on, news exchanged and the newspapers read. In most European countries, such as Austria, Denmark, Germany, Norway, Sweden, Portugal, and others, the term cafe means a restaurant primarily serving coffee as well as pastries such as cakes, tarts, pies, Danish pastries, or buns. Many cafes also serve light meals such as sandwiches. European cafés often have tables on the pavement (sidewalk) as well as indoors.