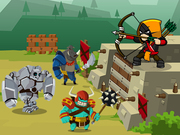 Fortress Defense Game Online - Play Free Fun Strategy Browser Games
Get ready for a fun and action-packed tower defense game! Defend your castle from different creatures in Fortress Defense game. Experience the action with 100 different levels, 5 different archers, 15 enemies. You can improve the archers and the castle from the Shop menu with the gold you will earn after each mission. In addition, 3 different features will help you defeat the enemy. Start the game now to discover the features of Forzen, Poison and Lighting bonuses. Have fun!
10,396 play times
How to Play Fortress Defense Game
Use mouse or touch pad to play this game.
Fun Facts and History of Tower Defense Games
According to WikiPedia Tower defense is a subgenre of real-time strategy games, where the goal is to stop the enemies from reaching a specific point on the map by building a variety of different towers which shoot at them as they pass. The Tower Defense game genre started with Atari's Rampart game, back in 1990. By the early 2000s, maps for StarCraft, Age of Empires II, and Warcraft III were following in Rampart's footsteps. Eventually, independent video game developers began using Adobe Flash to make stand-alone tower defense games available in your web browser. One of the most popular tower defense flash games ever was the Desktop Tower Defense, released in March 2007, and which earned an Independent Games Festival award. Tower defense games are characterized by the positioning of static units by the player to defend against mobile enemy units who are trying to get from a start point to an end point. Enemies and towers usually have varied abilities, costs, and upgrade prices. When an enemy is defeated, the player earns money or points, which are used to buy or upgrade towers, or upgrade the number of money or points that are earned, or even upgrade the rate at which they upgrade. It is also a common theme in tower defense games to have air units which do not pass through the layout of the maze, but rather fly over the towers directly to the end destination.