Tractor Pull Premier League Game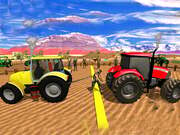 Tractor Pull Premier League Game Online - Play Free Fun Tractor Browser Games
Welcome to Tractor Pull Premier League, the heavy duty tractor pulling game with realistic off road village environment. It is going to be tractor vs. tractor in different serene environments. The whole of village has gathered to experience this ultimate battle of tractor pull. Let's see which tractor will emerge out victorious in Tractor Pull Premier League. Have fun!
10,616 play times
How to Play Tractor Pull Premier League Game
Use your mouse and arrows. Please follow the screen instructions.
Tractors Pulls cause you to see Jumping Rednecks
According to Break.com rednecks loves tractor pulls. This is an event which often cause them be jumping up and down of joy. Not only is tractor pull a cool redneck sport, just to decorate or come up with your own ways to fix your tractor is also pretty awesome for a redneck. Not many rednecks use their tractor for jumping, as most of them have tractors that don't run.